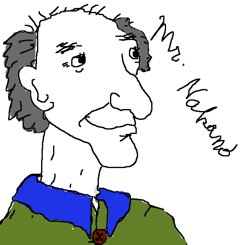 It was in the spring of 2010 when I enrolled in the Reading course. The course was offered by a university in Osaka. In the fall semester of 2009 when I was taking a native speaker's conversation class, this native speaker teacher recommended the course to me.
In this class we listened to stories from Brothers Grimm Fairy tales. I took the course for two semesters. The class was 90 minute long and she told two stories during the class time. She said that it was for us to receive aural comprehensible input. During the course I was introduced to free voluntary reading.
In the university library there was a special corner for easy readers and authentic books in English, and many books were displayed there. I remember very well when I was guided to an English book, "The Troy Stone" for the first book to read in English. It was a small thin book with illustrations and it had only 15 pages. I read it without stopping without a dictionary, and I remember enjoying the experience thoroughly.
It has been four years now. I read many graded readers from different publishers, such as Macmillan, Penguin, Oxford, and Cambridge. I started with the 200-word level and then went up to 600, 1100, and 1600 word level graded readers, and now I have read over 200 books including the regular English books. It has become my daily activity to read in English.
Reflecting on my childhood I remember that I used to read voraciously many adventure and detective stories. Back then there were exciting adventure stories and mysterious detective stories written by Japanese authors, such as Minetaro Yamanaka, Yoichiro Minami, Hitomi Takagaki, Kodo Nomura, and Ranpo Edogawa. Also there were many translated novels such as Mysterious Thief Lupin by Maurice Leblancby and Sharlock Holms stories by Arthur Conan Doyle, and I remember being absorbed in reading these stories at a used bookstore forgetting about time passing. Sometimes I could not read difficult Chinese characters in the books, but I paid no attention to those difficult Kanji characters. The books probably gave Kana alongside Kanji characters for children to be able to read.
When I was in Junior and Senior High school I always received good grades in Japanese, and I am sure it was because of free voluntary reading that I did in Japanese while I was growing up.
When the theoretical background of free voluntary reading methodology was explained to me in the first lesson of the reading class, I remembered my own FVR experience in Japanese and I was convinced of the effects of FVR on English acquisition right away.
The graded readers that are published for the beginners are controlled in vocabulary and syntax in a way that one with only 200-word vocabulary size can understand the content. I remember I was engrossed in reading those books without being conscious that I was reading in a foreign language. It was just like the reading experience that I had when I was a child. It was a precious experience.
After I finished taking the course I took the TOEIC test. My first score was 495 (June 2011). The last time I took the test in October 2013, my total score was 630.
Does FVR contribute to the TOEIC scores? I believe that it does in the reading section for sure. For listening, I feel that there are obstacle in sounds and meaning. For meaning FVR is effective, but for sounds I watch TV shows from overseas and Radio programs in English.
Lastly my hearing ability is declining and I do not have the quick instantaneous reaction ability anymore, I feel that these might be big barriers for me in order to do better on the TOEIC next time.
Nevertheless, thanks to FVR methodology I have been enjoying my English study. In order to confirm the fruits of my reading activity I plan to challenge to sit in the TOEIC examination again in the near future. Thank you.